Doctors & Staff
Meet the experienced and friendly doctors and staff who make Bentonville Eye Care the leading provider of vision care products and services in Bentonville and Rogers.
---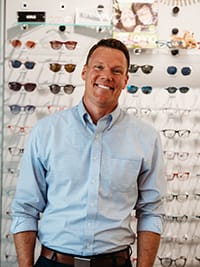 Derrick Pierce, O.D.
Derrick Pierce began his career by earning a Bachelor of Science degree in Biology from Centre College in Danville, KY. He continued his formal studies at the Southern College of Optometry (SCO) in Memphis, TN to earn his Doctor of Optometry degree. At SCO, Dr. Pierce gained a specialized knowledge base in many facets of the optometric field including primary care, ocular disease, low vision, contact lenses, pediatrics, and binocular vision training.
While in optometry school, Dr. Pierce completed a rotation at the Memphis Veterans Affairs Hospital to enhance his knowledge and experience in diagnosing and treating ocular diseases. He completed a second rotation at the Coastal Vision Center in Amelia Island, FL to reinforce his training in fitting various contact lenses (including Multifocal, Astigmatism, Rigid Gas Permeable, and Silicone Hydrogel) in a private practice setting. While at SCO, Dr. Pierce was selected as an SCO Ambassador to give tours and promote the college to potential students, their families, and members of the community. He was also the recipient of the school's 2007 Outstanding Clinician award voted by the entire attending staff.
Dr. Pierce is a member of both the Arkansas and American Optometric Associations. He values serving in NWA and volunteered at the Hope events in 2011 and 2012 events by performing eye exams and raising awareness of homelessness in northwest Arkansas.  He is a proud member of the Bentonville Breakfast Lion's Club and also very active in supporting The Community Blood Center of Bentonville, where he is a regular donor.  Dr. Pierce enjoys volunteering with the local school system as a mentor through a division of the Big Brothers Big Sisters of NWA and regularly speaks to students in classrooms throughout Bentonville. He has also performed eye health and vision screenings for Bentonville High School athletes. Dr. Pierce enjoys running marathons, cheering on the Razorbacks and his home state Kentucky Wildcats, and spending time on Beaver Lake.
---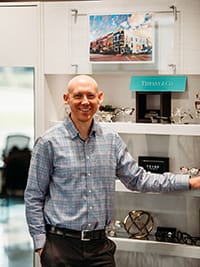 Jeff Coats, O.D.
Jeff Coats is originally from Independence, MO, and received a Bachelor of Science in Biology from the University of Missouri.  He then attended the Southern College of Optometry (SCO) in Memphis, TN.  At SCO, where he graduated cum laude, Dr. Coats received an intensive education that covered various aspects of vision correction, as well as ocular health detection and management.  Rotations completed by Dr. Coats include primary care optometry, treatments of ocular disease, contact lens fitting/modification, pediatrics/vision therapy, and low vision.
Dr. Coats is extremely service-oriented, both on a local and international scale.  While in Memphis, he served as President of the local Lions Club assisting members of Shelby County.  During his summer breaks, Dr. Coats traveled to Central America on multiple mission trips with the organization S.V.O.S.H (Student Volunteer Optometric Services to Humanity) providing citizens with donated glasses and aiding in their ocular health, while picking up a little conversational Spanish.
After graduation, Dr. Coats practiced with a school-based pediatrics clinic in Memphis focused on delivering care to areas often underserved.  Dr. Coats has also worked steadily with a practice focused on the care of patients with diabetes, high blood pressure, and glaucoma.
Outside of caring for patients and keeping up with the newest technologies in the field of optometry, Dr. Coats can often be found on his mountain bike somewhere around Bentonville.  He and his wife Jade, a fellow optometrist, love to travel, volunteer in the community, and enjoy the excitement of NWA!
---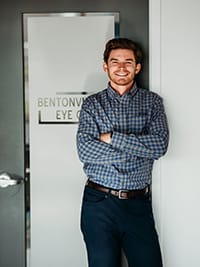 Trent Daiber, O.D.
Trent Daiber is a member of the American Optometric Association and Arkansas Optometric Association. He is an alumnus of Russellville High School and the University of Arkansas.
He completed his optometric education at Southern College of Optometry and rotated through Willis Knighton Eye Institute where he focused on ocular disease and surgery. In his free time, Dr. Daiber enjoys hunting, cycling, and being outdoors.
---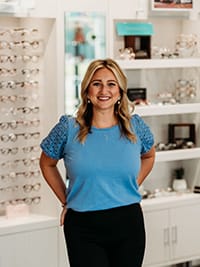 Emily Merwin, O.D.
Emily Merwin completed her undergraduate degree at Michigan State University and is a die-hard Spartan (GO GREEN!). She then attended optometry school at Michigan College of Optometry, where she graduated with honors. She practices primary eyecare, seeing everything from multifocal contacts, children with binocular vision issues and treating ocular disease.
Dr. Merwin was born and raised in southwest Michigan and recently moved to Bentonville with her husband and two daughters. She enjoys exploring all the great things NWA has to offer with her family, taking their two dogs for walks, and shopping. She has completed two optometric mission trips and loves to give back to her community.
---
Andrew Murphy, O.D.
Dr. Andrew Murphy was born and raised in Northwest Arkansas. He received a Bachelor of Science in Biochemistry from the University of Arkansas in Fayetteville. Dr. Murphy then graduated summa cum laude from the Southern College of Optometry, where he was awarded the Dr. Milton Webb Leadership and Service Sholarship from the Arkansas Optometric Association.
Dr. Murphy is dedicated to providing exceptional eye care and vision services. He enjoys seeing patients of all ages for comprehensive eye examinations as well as fitting contact lenses and managing conditions such as glaucoma, age-related macular degeneration, diabetic retinopathy, and dry eye disease. Dr. Murphy also has a passion for treating patients who are suffering from symptoms such as light sensitivity, blurred vision, and eye strain resulting from traumatic brain injuries and concussions.
When he's not seeing patients, you can find Dr. Murphy cheering on the Razorbacks, wood-working in his shop, or learning a new song on the guitar!
---
Cindy Le, O.D.
Dr. Cindy Le is originally from Yukon, OK and received a Bachelor of Science in Biology from the University of Central Oklahoma in Edmond, OK. She graduated with honors from Northeastern State University Oklahoma College of Optometry in Tahlequah, OK. While there, Dr. Le was a member of the National Optometric Student Association and was President of the Women in Optometry. During her clinical education, she completed rotations at various sites throughout northeast Oklahoma affiliated with the Cherokee Nation rural eye programs.
Following her formal education, she completed her post-doctorate residency training at the Veterans Administration hospital in Fayetteville, AR where she focused on primary care and ocular disease. Outside of work, Dr. Le enjoys going to farmers markets, playing tennis, watching the World Cup, discovering new restaurants and coffee shops, and playing with her nephew, Arthur.
---